Complete solution for quality control optimization

Turnkey solution design and implementation

Quality control automatization and optimization

Smart and independent visual inspection

Records and analysis of manufacturing data
Enhance your production with industrial.VISION
We provide a complete solution for industrial quality control optimization. We develop our own software product, called industrial.VISION, which provides a simple and unified interface for quality controllers. It can also be fully integrated with manufacturing systems. 
We design the construction and mechanisms of automatization with an ideal price performance ratio based on our customers' needs. We use HD camera systems, lasers and other sensors to capture and measure products in detail. If needed, we integrate third party solutions, we cooperate with the world's leading suppliers of computer vision and robotization systems. 
The acquired data is evaluated by industrial.VISION. We use artificial intelligence, convolutional neural networks, machine learning, adaptive algorithms, etc. The evaluated data is used to perform extensive analyses to identify production enhancement potential.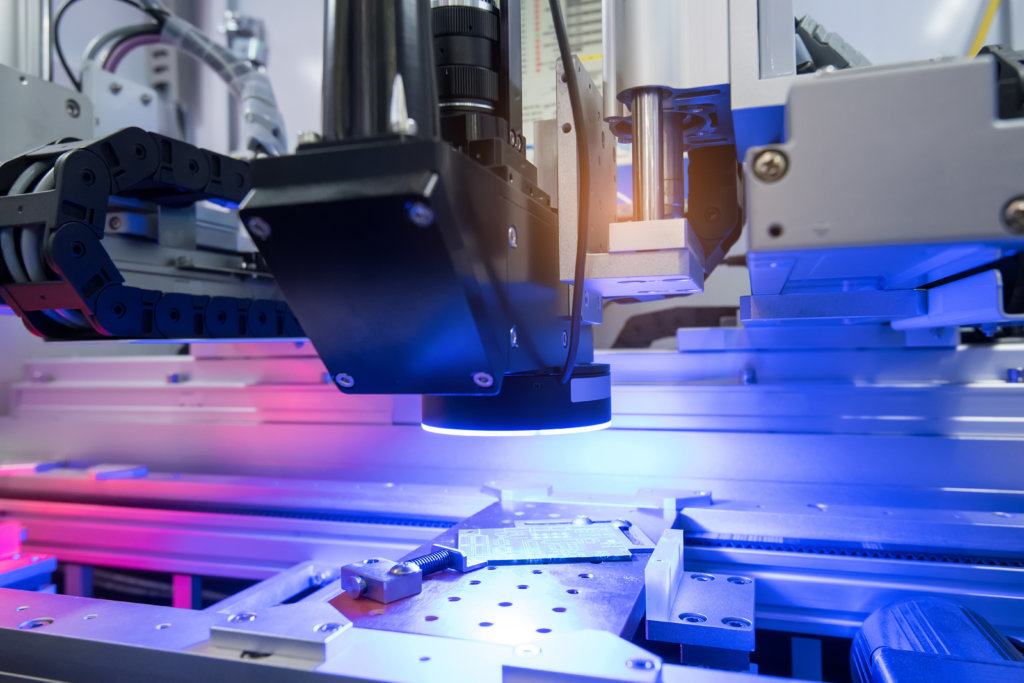 Automate your quality control
Control the quality of partial elements and/or the final product
Find defects even human eye can't see
Get proofing documentation throughout the entire manufacturing process
Analyze and optimize manufacturing processes

Turnkey solution
We design turnkey solutions including computer vision, AI, robotization, etc. We will prepare you for industry 4.0.

System integration
We integrate computer vision and robotization systems from the world's leading suppliers.

Part of the manufacturing
We become an inseparable part of the manufacturing process and systems SLA
We provide service and support. We guarantee the reliability of our solutions.

Licensed SW
Support, maintenance and new functions of industrial.VISION. We also help with expanding the SW use.

Artificial intelligence
We use the most advanced computer vision and image data analysis algorithms.

Adaptive learning
Machine learning and convolutional neural networks continuously enhance control precision.

User centered
Simple administration and setup. We focus on a regular user.
Hyundai Mobis
Industrial zone Nošovice
For Mobis Automotive Czech Ltd. we, as the system integrator, created a visual control stand on the production line making car cockpits. In cooperation with our partners, we constructed a box with cameras, which takes pictures of critical places and checks to see if there is a mistake or not. Thanks to our solution, human error has been lowered to an absolute minimum. In addition, the data from the camera system provides records of all manufactured products.
Hyundai Dymos
Industrial zone Nošovice
Hyundai Dymos Czech makes car seats for Hyundai Tucson, i30 and ix20 cars. The integration of the industrial.VISION solution, developed in cooperation with our partners, provided product proofing photos and automated the quality control of the car seats and their parts.
Cameras with high resolution, laser sensors and other measuring tools collect necessary data. To evaluate the collected data, industrial.VISION is using artificial intelligence, convolutional neural networks, machine learning, adaptive algorithms, etc. Artificial intelligence in the core of the software is able to detect even less obvious, analytically-indescribable defects, for which most of the other control systems are not prepared. The system continuously improves itself on the basis of the data obtained.
Petr Němeček
industrial.VISION Manager
Petr.Nemecek@ixperta.com
Tomáš Křesal
Technical Lead
Tomas.Kresal@ixperta.com
If you wish to contact us, call +420 266 061 665
Miroslav Franc
Key Account Manager
+420 602 795 736
Miroslav.Franc@ixperta.com
Petr Jirutka
Key Account Manager
+420 603 533 990
Petr.Jirutka@ixperta.com
Petr Kasalík
Senior Key Account Manager
+420 603 459 309
Petr.Kasalik@ixperta.com
Michal Menšík
Presales Engineer
+420 603 459 369
Michal.Mensik@ixperta.com
Andrej Kavický
Country Manager
+421 903 532 264
Andrej.Kavický@ixperta.com
Richard Karaffa
Business Development Manager
+421 918 979 900
Richard.Karaffa@ixperta.com
Michal Vyletel
Key Account Manager
+421 908 174 171
Michal.Vyletel@ixperta.com